Many are familiar with the phrase "wife beater" but what it means exactly, can vary considerably by demographics. Not that it's an endorsement domestic violence, but that it's often used as a colloquial phrase to refer to an item of clothing.
Some refer to flannelette shirts as "wife beaters" while others use the phrase as a reference to blue singlets.
It's with respect to the latter, that the This Is Not A Wife Beater campaign in Australia is seeking to make a difference. Challenging how people refer to the item of clothing. Part of this has been to take the blue singlet and relabel them as "respecters" with writing on the navy blue singlets as shown below: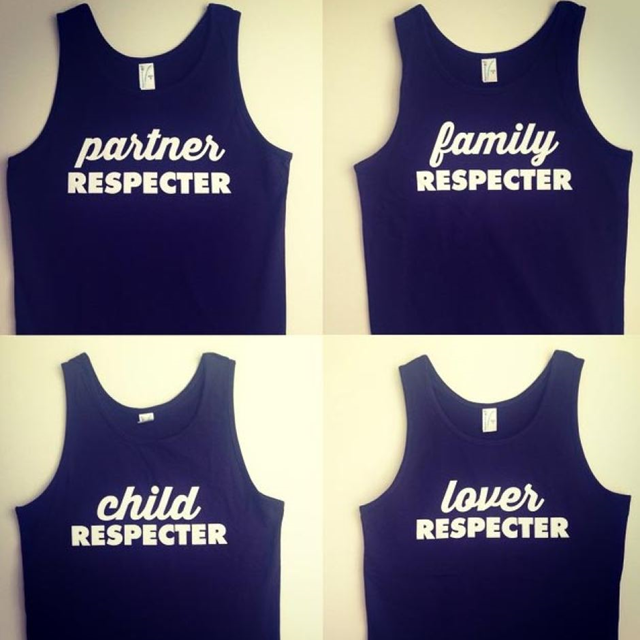 Image Credit: thisisnawb
The campaign has its origins back in 2013 at the Australian National University (ANU) women's department in Canberra, ACT, Australia.
Alisa Draskovic, speaking to 666 ABC Canberra said about the campaign's beginnings:
"When I heard the term wife beater it struck me… 'why do we refer to an item of clothing and make a reference to violence against women?'
"It didn't make sense to me and I wanted to challenge that; challenge other people to think differently about that."
She did also say in the radio interview:
"It's a way of not only drawing attention to the term 'wife beater', but also getting people to come on board and promote respect and respectable relationships."
The This Is Not A Wife Beater campaign is not for profit, and aims to put money into community organisations which seek to address issues of domestic violence. It has gained the support of those such as the Domestic Violence Crisis Service and the Domestic Violence Prevention Council, along with MensLink and the ACT Government.
Of course the aim is admirable, but in the same radio interview, Alisa Draskovic also seems to have partially answered why the "wife beater" phrase exists for blue singlets:
"I think there is this negative association with singlets, with men who are assumed to be violent due to their socioeconomic background."
It's not that the phrase "wife beater" was ever seen as anything positive regarding the navy blue singlets. Rather that phrase is decades old, and was, and is, used a negative and sarcastic term for what is essentially the stigma attached the fashion faux pas that is the blue singlet.
Or the flannelette shirt, or the "flanno" by another name.
It's not that the phrase "wife beater" with reference to an item of clothing is advocating domestic violence. Instead that it's now associating the colloquial notions of "bogans" and "boganism" with the blue singlet (along with "hicks" and "rednecks" more with reference to flannelette shirts) and that the wearer is at least somewhat backwards and not acting, or dressing, in a socially acceptable manner.
It may also be applied to more generally to tank tops and singlets overall (when worn typically by males).
The phrase "wife beater" regardless of it being a reference to clothing, or the far more reprehensible actual domestic violence, is already pejorative and telling people not to do it.
Whether the This Is Not A Wife Beater campaign can successfully reshape the cultural clothing "wife beater" phrase remains to be seen. It is for a good cause though.
However, it may also be worth considering charitable campaigns like Movember. Where men grow moustaches in November to raise funds and awareness in support of men's health. The moustache, these days, is typically not considered the most stylish facial accoutrement, but the Movember Foundation has taken this societal and cultural perception and turned it into a positive. Complete with the sarcasm in the month of November, with men often believing their moustaches look awful, but knowing it's for a good cause.
So the This Is Not A Wife Beater campaign could perhaps focus similarly, such as hosting charity events where people are encouraged not to wear "wife beaters". The messages of the "respecter" singlets with respecting partners, family, children, and lovers, are ultimately extremely important. As is helping to stop domestic violence. But turning the navy blue singlet into a symbol of positivity and respect may prove considerably more challenging.