With the death of Motörhead frontman and bassist Lemmy on Monday 28 December 2015, it has been officially announced that the band will not continue on without him.
Ian Fraser Kilmister, or Lemmy as he was known, died in Los Angeles at age 70, after a battle with an aggressive cancer.
Passing away four days after his 70th birthday, Lemmy had been diagnosed with terminal cancer on the Saturday. Manager Todd Singerman revealed Lemmy had only been given two to six months to live.
Confirmed via Motörhead's official Facebook page the sad news:
There is no easy way to say this…our mighty, noble friend Lemmy passed away today after a short battle with an extremely aggressive cancer. He had learnt of the disease on December 26th, and was at home, sitting in front of his favorite video game from The Rainbow which had recently made its way down the street, with his family.
We cannot begin to express our shock and sadness, there aren't words.
We will say more in the coming days, but for now, please…play Motörhead loud, play Hawkwind loud, play Lemmy's music LOUD.
Have a drink or few.
Share stories.
Celebrate the LIFE this lovely, wonderful man celebrated so vibrantly himself.
HE WOULD WANT EXACTLY THAT.
Ian 'Lemmy' Kilmister
1945 -2015
Born to lose, lived to win.
Please feel free to post your condolences, well wishes and memories on our official tribute page:
https://www.facebook.com/lemmykilmisterforlife
The British rocker, born 24 December 1945, in Staffordshire, England, lived and breathed the rock and roll lifestyle to its full. Including the sex and drugs that are said to go so well with rock and roll. Plus more than a few bottles of Jack Daniels.
Reportedly hooked after seeing the Beatles play at Liverpool's Cavern Club as a teenager in the 1960s, Lemmy went on to play in various bands (including Hawkwind), had a stint as a roadie, and founded Motörhead in 1975.
Lemmy as the founding and one constant member of the band, toured and recorded tirelessly.
Motörhead released 22 studio albums. The most recent, Bad Magic, was released in August 2015.
The band occupied that rare kind of transcendental space, where although Lemmy insisted the music was rock and rock, fans of many other genres including metal and punk found their way to Motörhead across several generations.
And of course the Ace of Spades is the only card, or song, or album, most need.
'Til Hammersmith is reached, Lemmy's Rickenbacker bass and lyrics are set to resonate for many years yet as Motörhead fans continue to play his songs.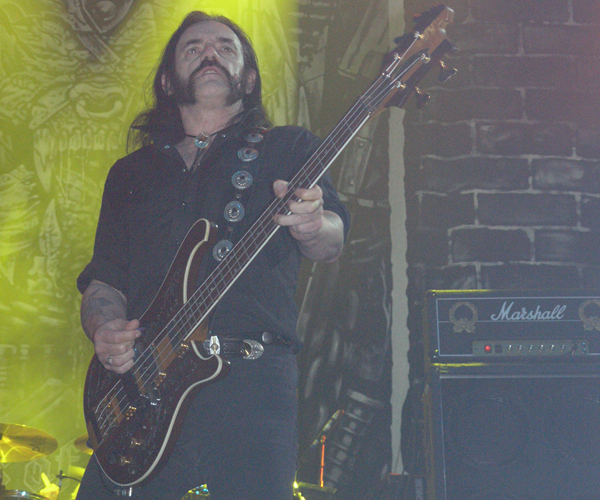 Image Credit: KaJaNa
While Motörhead's music will live on, the band itself, however, won't.
Speaking to Expressen, Motörhead's drummer Mikkey Dee said:
"Motörhead is over, of course. Lemmy was Motörhead. We won't be doing any more tours or anything. And there won't be any more records. But the brand survives, and Lemmy lives on in the hearts of everyone."
Feature Image Credit: Spens03