The Boston Marathon Bombing
What should have been a cheerful Patriots' Day as people ran the Boston Marathon on the 15th April 2013, turned horrific as two bombs were detonated.
Three people, including an 8-year old child, were killed in the bombings.  Reports indicate that over 140 people were injured, of which 10 had their limbs amputated.
The first bomb was detonated near the finish line of the marathon, as marathoners crossed it.  Impact from the blast knocked those nearby to the ground.  Amidst a scene of blood and carnage, as people fought back panic to help others, a second bomb was detonated about 10 seconds later.  Both bombs appear to have been strategically placed to maximise damage and casualties.
With anxiety running high, the people of Boston were moved away from the area and urged to stay indoors.  The concerns were more than justified, with another two bombs subsequently found.  Fortunately neither of these were detonated.
President Obama was quick to respond, and carefully chose his words in a statement which did not refer to the Boston Marathon bombings as terrorism.  Yet stated that those responsible will "feel the full weight of justice".
Others were not quite as restrained; some calling it the first act of terrorism on US soil since September 11.
Who is Responsible?
At the time of writing, there are no clear indications who is responsible for the tragic and cowardly act.  The FBI is continuing to investigate.
Speculation has been rife, however.  A "person of interest" has been questioned.  Contradictory reports have emerged via social media;  and different to official reports from authorities.
Some have noticed what they believe is a link between Patriots' Day and the Boston Marathon bombing, and similarly so with the anniversary of the Waco siege and the Oklahoma City bombing.  Here, they suspect there may a link with gun control acts and reforms in the US.  This is yet to be substantiated.
Perhaps a more disturbing trend can be seen in the data of Google searches for "marathon bombing" below: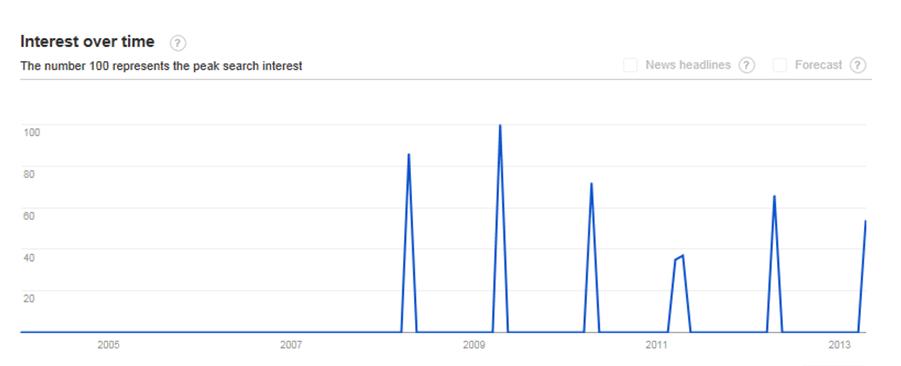 Source: Google Trends
As is evident, there are clearly periodic spikes in the data peaking in April each year since 2007.  This is correlation, and it does not suggest causation.  However, why this should be evident in the data is unclear.
It may be a grim coincidence with Big Data, perhaps with people simply concerned about such an occurrence.
Or it may be more sinister, in that there may have been one (or more) whom had planned and acted upon this regularity, as though sadly making the 'prediction' true.  This may be akin to the psychological notion of social proof, and it can only be hoped that other copycats do not follow this as some form of the so-called "Werther effect".
Although, as stated, it may just be terrible coincidence.
What are your thoughts on the tragedy, has it made you feel less safe?  Can the Boston Marathon bombing ever be understood or justified?  Is there something to Big Data, where perhaps it may help to alert and prepare for such things in the future?
Feature Image Credit: Anna Frodesiak